My favorite way
When eating ice cream, the place sometimes influences how I eat it. In general, I prefer ice cream in a cone. But when visiting an ice cream stand with available outdoor seating, I lean towards ordering a sundae. And then there are specific ice cream stands where I get the same thing every time. For example, at a stand located in Central New York, I order a sandwich because of the way they make their own homemade soft ice cream and chocolate chip cookies. The texture of their cookies combined with their ice cream gets me every time. Another place with fabulous homemade soft ice cream that is also organic is a food truck in San Francisco. And at a stand near Tampa known for its fresh strawberry creations, I always get a shake. But my favorite way to eat ice cream is in a cone.
I am asking you to share your favorite way to eat ice cream
So ever-curious, I am asking you to share your favorite way to eat ice cream by participating in this anonymous one-question survey and to include if your choice is affected by place or some other circumstances.
Here are the results of the survey so far…
The results are refreshed every 24-hours.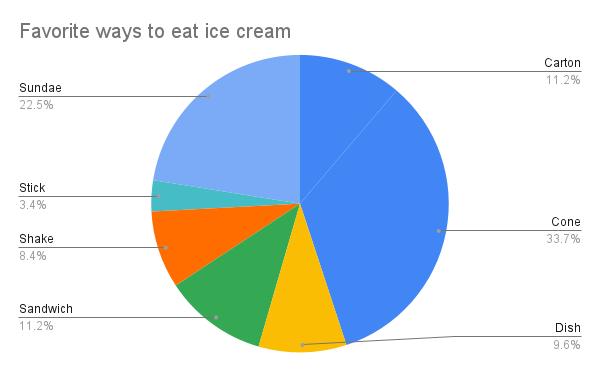 I appreciate your time participating in this good humor survey.
Thank you.